Project Spectrum Song of the Day
This is the one that's been sticking in my head since I started thinking about purple. Sing along with me, children of the 70's (grade 5 for me) or you oldies listeners: Smoke on the Water by
Deep Purple
on their Machinehead album (I can say album here, right?).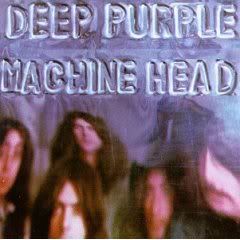 This is the name I should have entered in Mama-E's "Name that gorgeous praiple yarn" contest. Since I didn't, I shall dub this month (unofficially) Smoke on the water, fire in the sky month--fitting for July, n'est-ce pas? Updates: She-who-must-no-longer-be-named (per
Ellen
) aka Cheek-Chewer Claire shall henceforth be dubbed C3 and be the merciless butt of all our jokes. Sound good to everyone? That'll teach her to eschew knitting rudely. Eshcew it all you want, but don't be rude about it. And thanks for asking about my mom. She's walking with a walker, attending physio, and has actually done stairs! Hopeful hospital release date is slated for this week. Thanks for your prayers and good thoughts. She's very touched by the amazing knogger kindness. You folks rock! Check out
Cara
's total for Spin Out. Triple Woo Hoo!!!!!!