I Meet the Yarn Harlot (and Other Happenings on the Way)
***Look for this if you want to skip my VERY long intro and just read about the Harlot. Sorry the pics are so big; I transferred them in from photobucket, and I don't know how to resize them. Yesterday was the day! I grabbed my packages (to pay it forward as
Mama-E
suggested), took my Yahoo!maps directions and headed for Beverly
"Also known as Beverly Hills--The community, once part of Washington Heights, was annexed by the city of Chicago in 1890".
It took me almost two hours to get there because of faulty directions and construction on 95th Street, but I gave myself plenty of time. I found a parking spot right by the 99th Street Metra Station. Walden Parkway has the cutest little grouping of stores (pinch-its-cheeks-cute), and
My Sister's Knits
is no exception.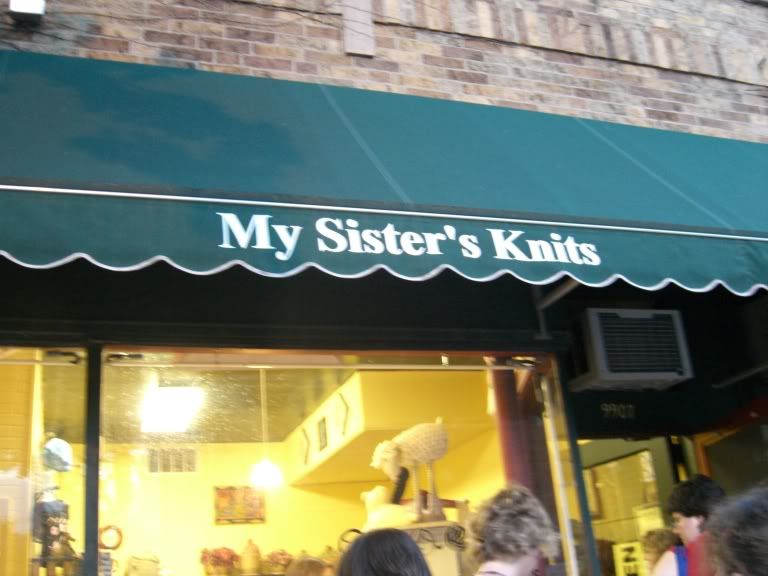 I should have taken better photos of the store, but I'll leave it to you to visit Carol (who is a nurse) and her one-year old store with its bright yellow paint, vintage posters, and "Don't make me get my flying monkeys" sign. As an aside, why are so many nurses also knitters or yarn-shop owners? My guess is that they decided to use sharp needles for humanitarian reasons rather than inflicting pain or, more likely, they had to find a productive use for sharp needles or some doctors or patients were going to get stabbed in the eye. My DH says knitting is all about channeling anger; maybe he's right. Anyhoo, I waited in the LYS for the arrival of
the other redhead
who was meeting me there. She walked in, and is it weird to say that I already felt like we knew each other and were friends, so it was like getting together again? We shopped a bit, exchanged gifts
(She gave me a COOL pin and scrapbook!! I gave her red Cascade Fixation yarn and
Trek's Grown Up Wonky Lace Socks pattern
which I'm dying to make), got directions to the "talk" and decided to stop at the coffee shop across the street to wait for the Harlot. Off to
Cafe Luna
.
Cute little restaurant. Remember Phoebe's sister, Ursula on
Mad About You
? Well, we had her last night. I'm not making this up.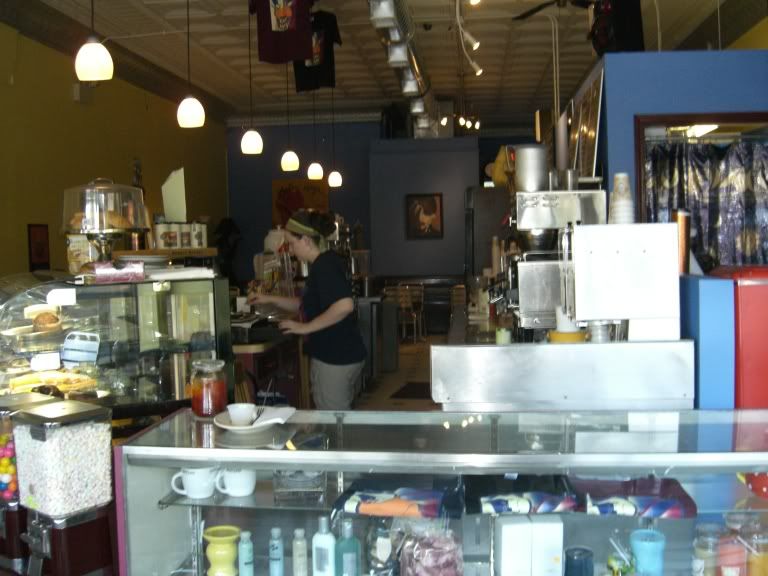 Bonnie ordered a strawberry salad. About ten minutes later, the waitress comes up to her (there were about four people in the cafe) and said, "Did you order the strawberry salad?" Bonnie said she did. Ursula: "Well, we don't have any strawberries." Bonnie: "What else is on the salad?" It had been so long since she ordered she could't remember. Ursula: Blank look, goes looking for menu. Bonnie tells her she'll have the salad anyway, and several more minutes go by. Waitress returns with Bonnie's salad (minus the strawberries). She looks at me. "What did you order?" Me: "Chicken salad." Ursula: "Oh, yeah." She goes in the back and returns about ten minutes later. "Did you get your chicken salad?" Me: "Not yet." Wondering who was supposed to bring it to me--the chicken salad fairy? Finally the chicken salad arrives. Meanwhile, Bonnie and I have struck up a convo with other pilgrims on the road to the Harlot. The lovely and talented
Tammany
and her talented and handsome husband
Matthew
. I'm sure they'll share their challenges in finding Beverly on their respective blogs; it was a treat to meet them. They experienced the Ursula as well.
Bonnie and I had a lovely time getting to know each other in spite of the Ursula and B's blown-out flip flop.
We decided to order some coffee to go, because it was getting close to time for the YH to speak. B went and ordered and paid, and about ten minutes later, Ursula came over. Ursula: "Did you get your coffee?" Bonnie and me: "Um, no, not yet." Again, the coffee fairy? Huh? On to the next adventure: finding the park district building where the Yarn Harlot would be speaking on the second floor without the benefit of Air Conditioning. (Maybe I'd get to see the unintentional country singer hair).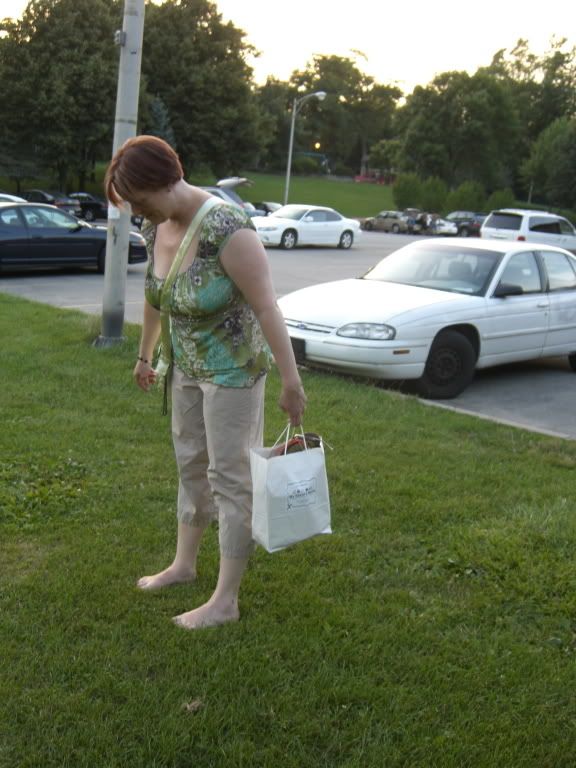 Bonnie was barefoot, and we admired the beautiful homes on the street.
We arrived, heard laughter, and knew that SHE had begun speaking. We found a seat, Bonnie pulled out her Jaywalker sock, and away we went. What can I say about Stephanie that hasn't been said? Funny, incisive, naughty, approachable, did I say funny?, real. I looked around the room at the women (and 1.4 men) and I felt a part of something really special.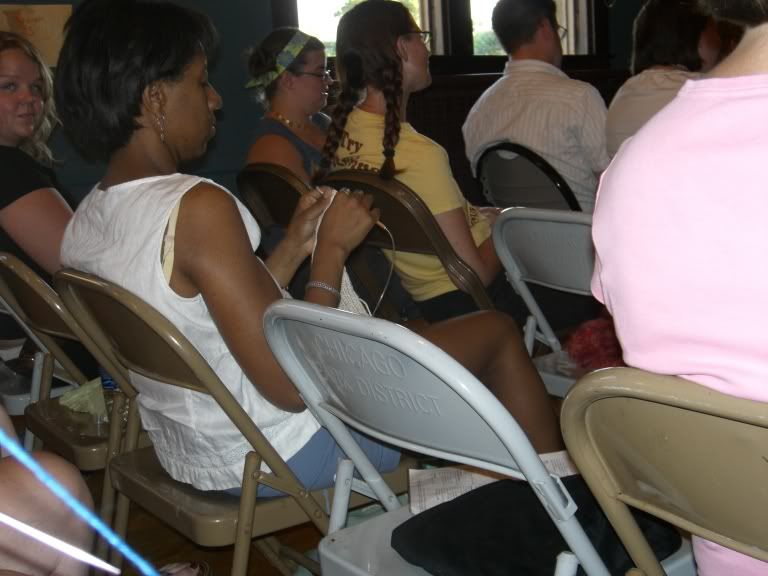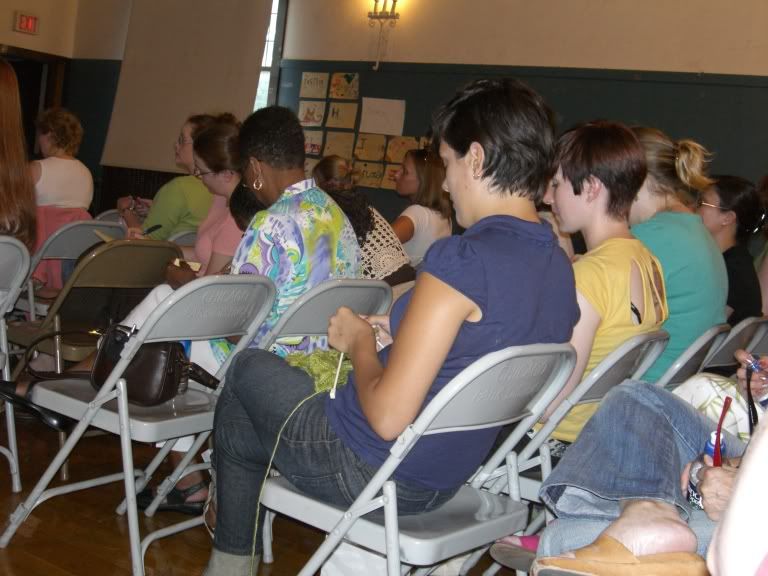 I noticed all types of knitting going on--socks, lace, entrelac scarf, what looked to be an MDK bib or warshrag. No sweaters that I could tell--too hot. The Harlot showed us her Knitting Olympics sweater (even the inside). FABU. And then people started asking her what else she had with her--a little bit (no a lot) prying into her life like she belongs to us. And she assented with such grace. What I walked away with is several funny replies to how much yarn I have, a couple of willie warmer jokes, and a sense that we all love this thing called knitting because it loves us--it connects us to ourselves and each other and nature and life itself. I learned something from seeing SP-M in person that I haven't learned on her blog: She lights up a room with her smile. I'm not sucking up (okay, I am, but I really mean it). I hear the smile in her writing and catch it in some of the pics on her blog, but it's power-packed in person. She finished her talk, headed back to the yarn store, and we followed after, chatting with some other knit-friends.
We met up with the spinning/knitting whiz/cutie pie Sarah and her lovely mom, Mary. Sarah comes from a family of spinners/knitters (mom and grandma). She also works at Knitche and shared some great info on the
Shepherd's Harvest Sheep and Wool Festival
held on Mother's Day weekend in Lake Elmo, MN. What better way to spend Mother's Day? Bonnie and I walked back to the LYS and got at the end of the line, out the door and down the sidewalk. I wish I had a picture of the young man who walked by across the street and couldn't stop staring at us. You could see his mind going, "WTF?" Very funny. I amused myself by watching others knit and taking pictures of the scenery.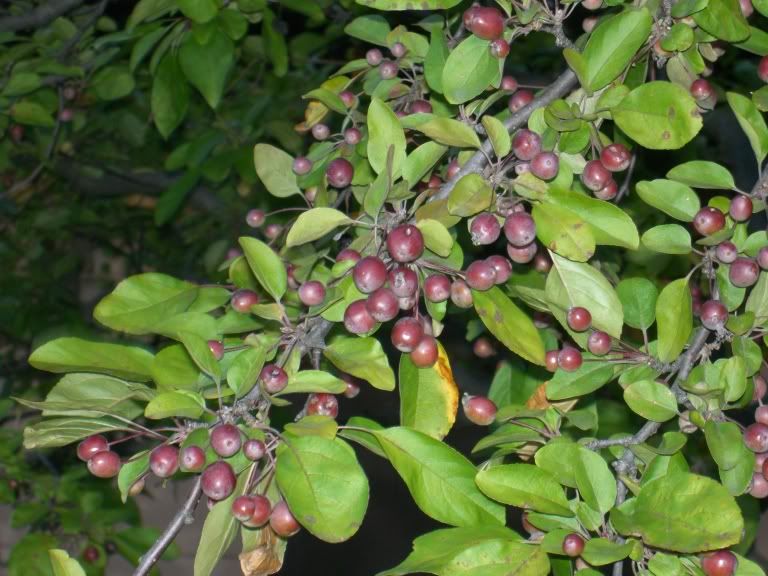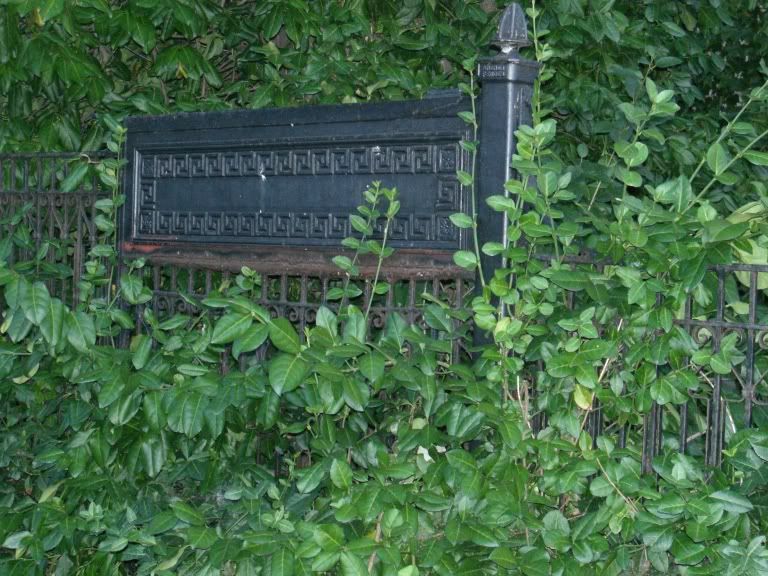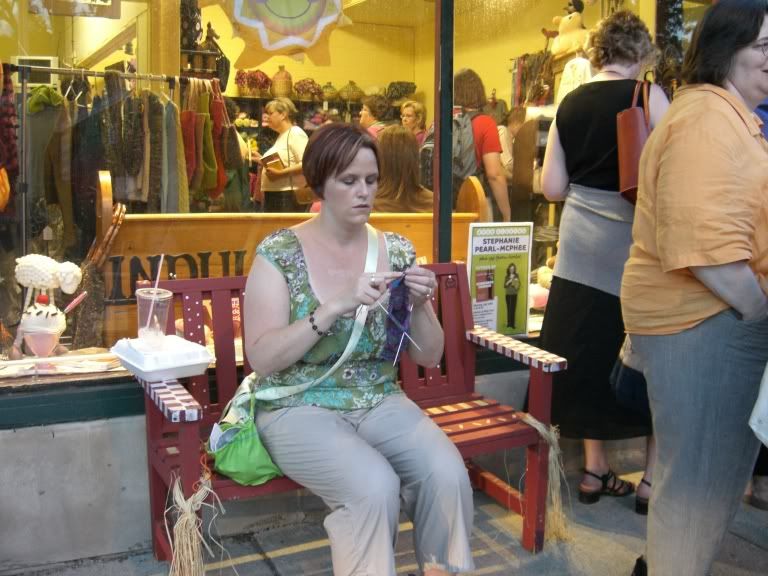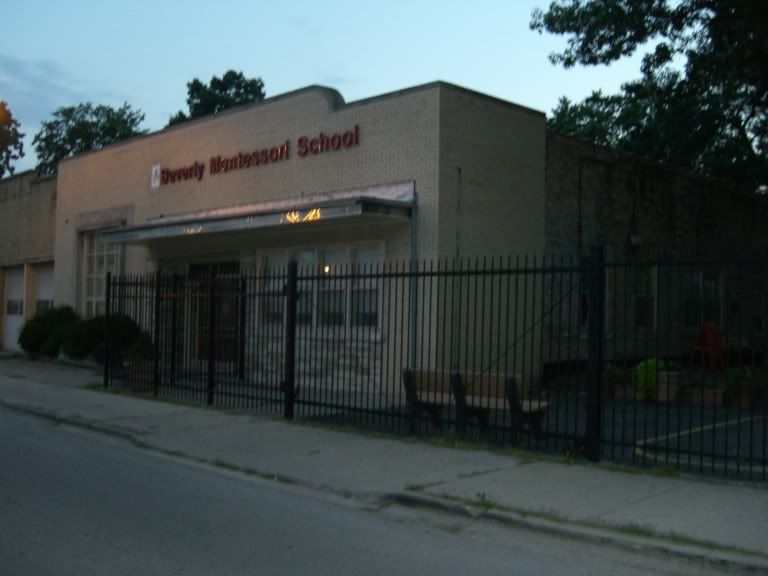 The 99th street station was built the same year Beverly was annexed to the City of Chicago and is still operational. Someone was selling
TSF
buttons, so of course I bought one. My nefarious plan to be at the end of the line worked until we were almost up to the Harlot's table, but the sweet girl who got in line behind us agreed to go ahead--she didn't have my agenda. Almost to the YH! And we chat with this nice young lady (forgot to ask her name), another red-head, who works at
Nina
and was helping Carol out because Nina and Carol are friends. Bonnie's beautiful daughter, Natalie, who saw our fellow RH at Nina pronounced her "cool." I agree.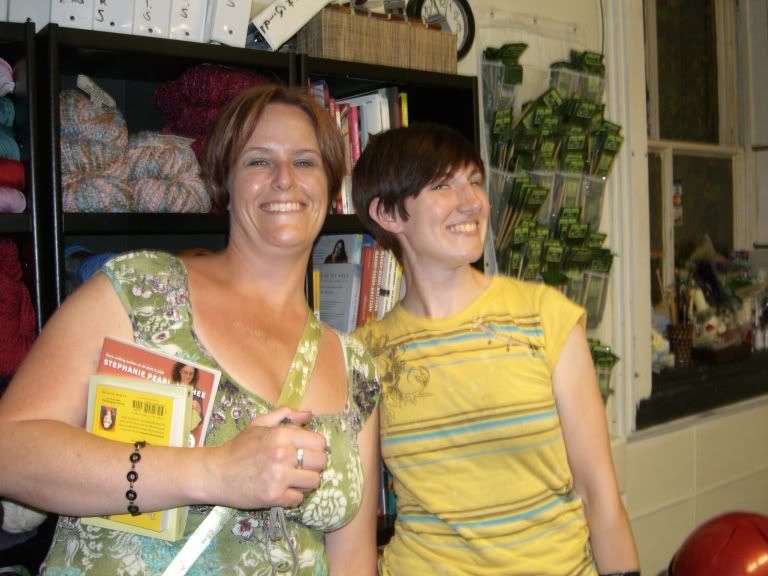 ***(Welcome to those of you who bailed on the rest of my witty writing.) And now the moment you've all been waiting for--drum roll please--we advanced to the front of the line. After the lady making argyle sock pirate jokes, after the other RH climbing up to the top shelf and almost knocking the books off, there she was. Check out
Bonnie's post
for the pic I took of her with the Harlot. Then it was my turn. I gave her the yarn that Susie made.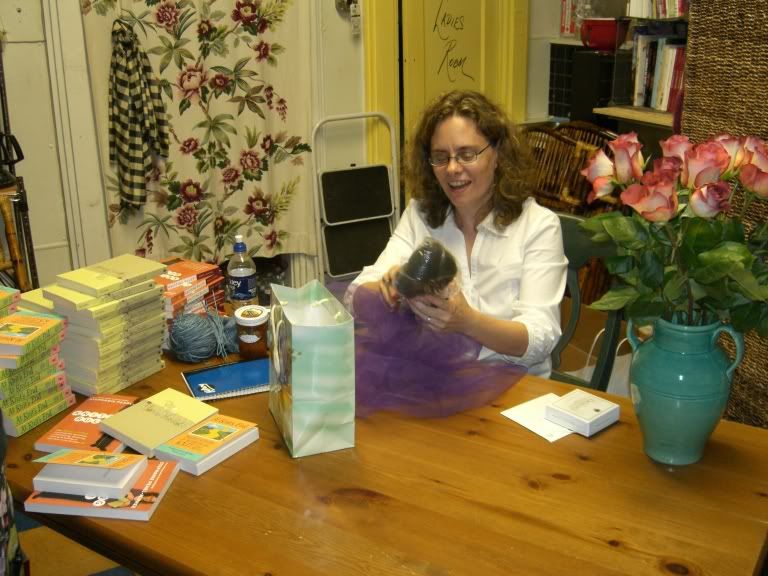 She opened it and loved it (and remembered Susie--that woman has an amazing memory). I was overjoyed to hear her say she has been looking for the perfect yarn for the
Peacock shawl
(we all know it and want to make it, don't we?) and now her search was over. I was almost in tears.
And then, you aren't going to believe this, the Yarn Harlot stood up (ignoring the phone that had rung 700 times--her teenagers calling to ask her where the blue pants are--from another country?), grabbed her camera, handed me Susie's yarn and shoved something into my other hand. I looked down. It was THE sock!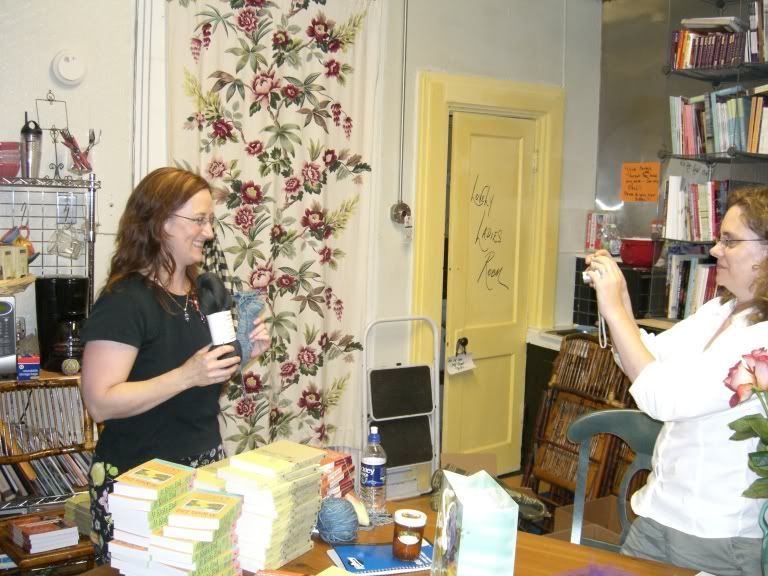 I touched THE sock. I held THE sock. The one that
Peter Elkas
(yum) touched, the one that has adventured with SP-M all over creation. My work on earth is done. Okay, that's a bit over the top, but if Stephanie posts pictures on her blog of her day in Chi-town (she did), I'm the one with the goofy smile on her face (and the double chin, gak.) Bonnie and I left My Sister's Knits (Carol throws a great party and has cool business cards)
and headed north to Lincoln Park. What a beautiful drive! I wish I could have taken photos of the city as we drove toward it and into it. Cellular Field, the Sears Tower, I love Chicago. I dropped Bonnie off at her cute brownstone in Lincoln Park. I'm definitely going back because that is the cutest section of Chicago. Then home, which took forever, because seven lanes of traffic had to merge to one on I-88. I was so hungry after that, I did something I haven't done in forever, I hit the drive-thru at McDonald's at 11:30p.m. I decided not to feel guilty because the premise of the Yarn Harlot's talk was that knitting is a sport. And if knitting's a sport, that makes me an athlete. And if I'm an athlete, I need to build up my strength, don't I?